Katie Knight digs deep into the lives of artists, managers, label managers, publicists, club owners, tour managers, promoters and more, to find out more about how they started out in the music industry, challenges they've come across, achievements, opinions, goals and stories that they've made along the way.
Episodes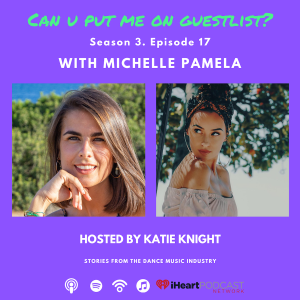 Wednesday Apr 07, 2021
Wednesday Apr 07, 2021
Welcome to the last episode of season 3 of Can U Put Me On Guestlist! I couldn't think of a better way to finish this season than with one of my best friends in the entire world, Michelle. If you've partied in Ibiza or at any of the biggest festivals around the globe, the chances are you've seen Michelle dance. Michelle has danced for Carl Cox, Richie Hawtin, Manumission, Ultra Festival, BPM, Music On, the list goes on, and her talent has taken her all over the globe not just to dance herself but also to manage and coordinate other dancers at events.
So with a few drinks (which I so wish could have been in person!), we chat all about the world of dancing, how she got to where she is today, stories she's made along the way, Ibiza, managing other dancers, the hardest part of being a dancer, working busy schedules and much more. 
Our first ever interview together was back in 2013 when we didn't even know each other and since then she has become such a special person to me, so I'm so happy that we did this together and that Michelle is part of the podcast. 
Thank you so much for your support this season, I really appreciate it and remember to subscribe to the podcast so you'll find out as soon as season 4 starts which will be very soon!